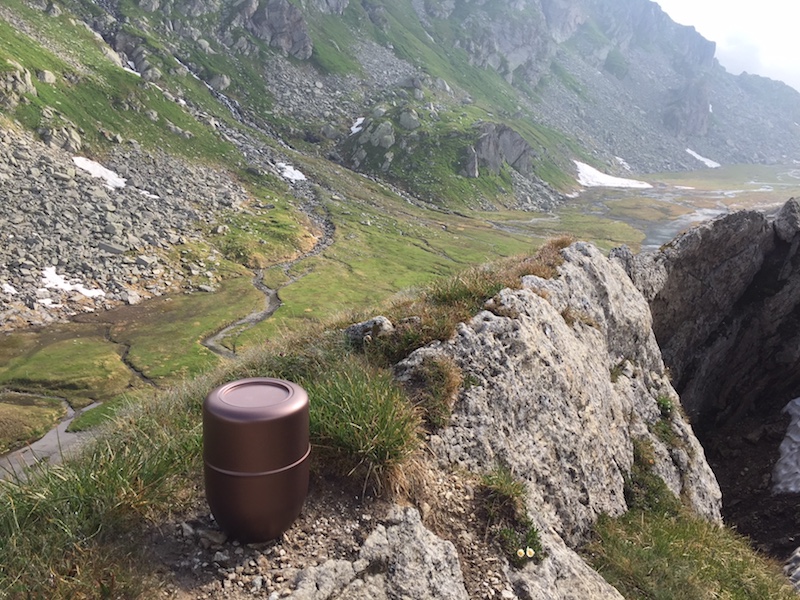 Spreading the ashes of my dad
I was walking in the heat. It was sunny and drops of sweat rolled down on my front while I slowly advanced along the steep path. I was in the Swiss Alps, close to a small village where I used to spend my summer holidays as a child. I knew the contours of the mountains that surrounded me. I remember how, as a child, I glanced at the steep slopes and admired the courageous pine trees growing tall despite the steep terrain.
Thinking of those serene childhood summer days made me feel a bit nostalgic. Many things had happened since then. I experienced plenty of adventures and challenges, and one of the biggest ones had been the death of my dad.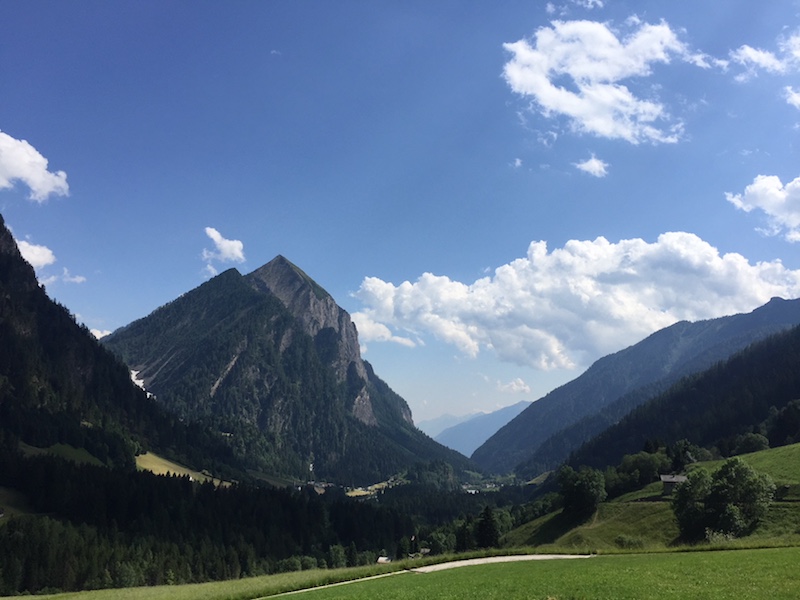 A heavy last duty
I was in that remote corner of Switzerland with a "mission". I was going to accomplish one of the last wishes of my dad. During one of our conversation in the hospital, while he had terminal cancer, I asked him what I should do with his ashes. He asked me to spread them by an impressive natural arch on the Greina plateau, a wonderful highland of the Swiss Alps at 2'200m.
Over one year after his death, I was there, surrounded by majestic peaks, hiking up the path towards the Greina plateau with the urn containing his ashes in my backpack.
The backpack was heavy and I felt my shoulders becoming sorrow. I carried this physical weight on my back, which somehow made me aware of the psychological weight I felt. Since one year I wanted to come up to the mountains and execute my dad's wish. But I kept postponing it. Now, I was finally there and looked forward to get free of this weight I felt on my back and on my heart.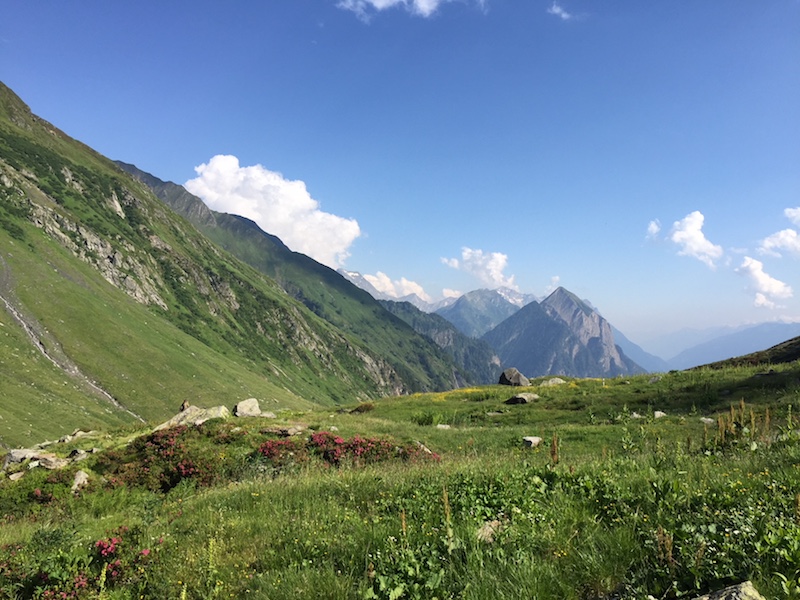 "Once again, I have to do an effort for you"
When I stopped to take a deep breath, I thought: "Once again, I need to do an effort for you. You have been so passive, lazy, during your whole life. Never planning ahead, never taking decisions proactively. You were just focused on yourself and on minimizing your own efforts. And now, I have again to do something for you."
What a thought. I surprised my self to hear my own "inner judge" shouting so loud in my head. It reminded me that there had been moments I felt very angry with my dad for letting himself down in a spiral of passivity. I wanted to shout to him: "Get your shit together!"
I wish my call would have made a difference. It did not. I somehow had to accept that I cannot decide for others, I cannot force others to change, even if I love them and if it's obvious that they are building self-destructive habits.

A starless night
I kept walking up the path while observing the environment around me. The flora changed from forests to small bushes and patches of grass. I stopped to look at a flower and suddenly I heard the high scream of marmot. I turned my head and saw a small fluffy marmot 10 meters from me, proudly erected on a rock. A smile appeared on my face.
The beautiful nature was infusing me with calmness. I watched the mountains that appeared at the end of the valley. They surrounded me and I was stunning from their majestic beauty. I started to think that maybe the wish of my dad was not just a caprice but maybe it was a present.
Finally, I found a spot where to sleep with flat grass by the entry of the plateau. I was feeling tired and hungry. I looked down into the valley while eating some food. I observed some ibex moving with agility between the large rocks not too far away.
By the time I prepared my bivouac the clouds had hidden the peaks surrounding me. When thinking of this trip I was dreaming of sleeping outside and watching a sky filled with stars. But I realized that it would not happen and I felt sad.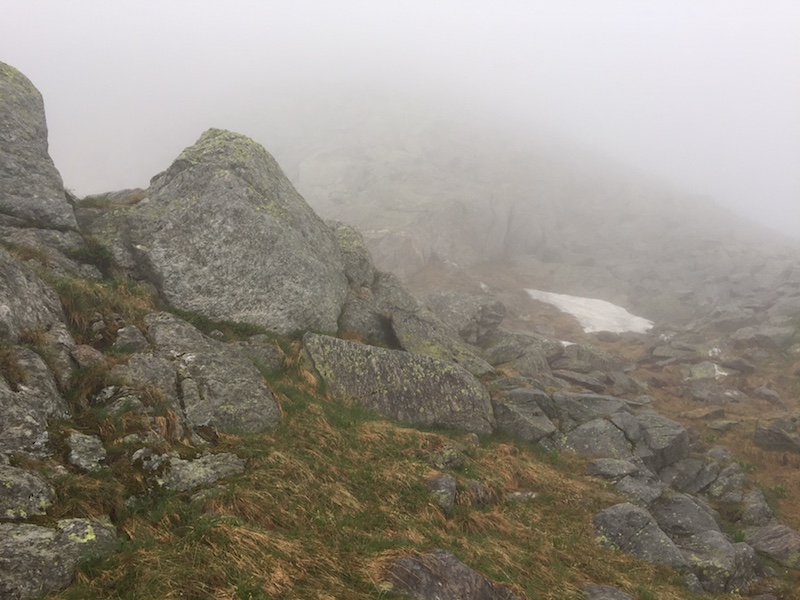 Waking up in the clouds
During the night I kept waking up. I had the impression that I did hear something close to me. I had the feeling that the ibex were walking close by and that they would stumble over me. It started to rain slightly. I arranged my bivouac-bag to stay dry but just kept turning in the sleeping bag.
I was relieved to notice that it got bright, but as I opened my bivouac-bag realized that I was surrounded by a thick fog. I could hardly see the path I came from. How the hell was I going to find that rock arch where I was supposed to spread the ashes of my dad? And even if I found it, what's the matter of spreading them there if nobody could have told where it was? The fog baffled me.
I got ready and started walking into the direction of the arch anyway. I could hardly see the next blue mark on rocks marking the alpine path. I walked like a blind person in the mountains. I knew that the majestic peaks were just there, so close by, but the only thing I could see were rocks 2 meters in front of me.
By the moment I got to a small lake the path split into two directions and I had no clue on where to continue. I stumbled in one direction. Then back to the other. I looked around me with the hope of discerning some indications.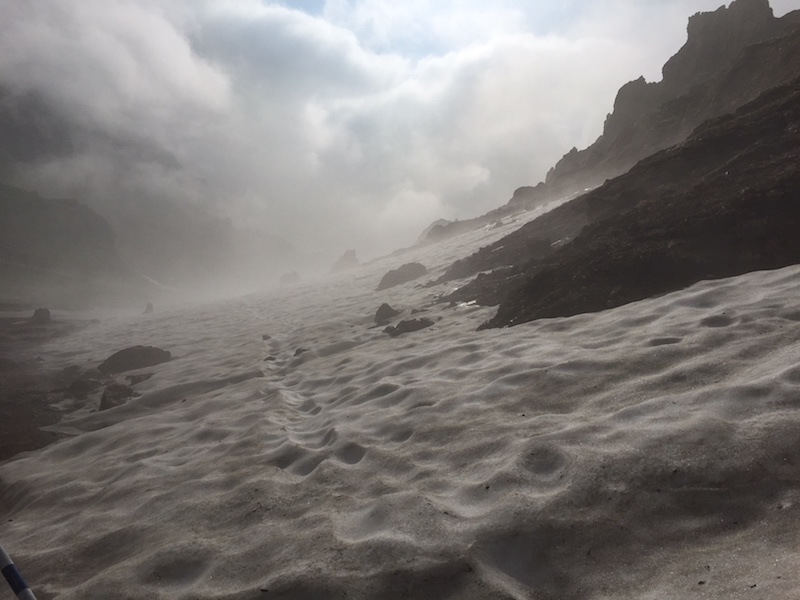 An in-perfect moment for my dad's soul
Suddenly it was there. The arch of the Greina. Just a few meters uphill. I looked around and saw the fog moving upwards. Some sun rays made it through the fog and created glimpses on the water surface.
I was completely stunned. It was like being in a fairy tail, the timing was so perfect. I was now filled with hope and trust. "Let's do it now!" and I climbed up the slop till the arch. I climbed the last bit until I stood on the top of the arch with an amazing view in that small lake, the mountains around me, the patches of grass filled with colourful flowers.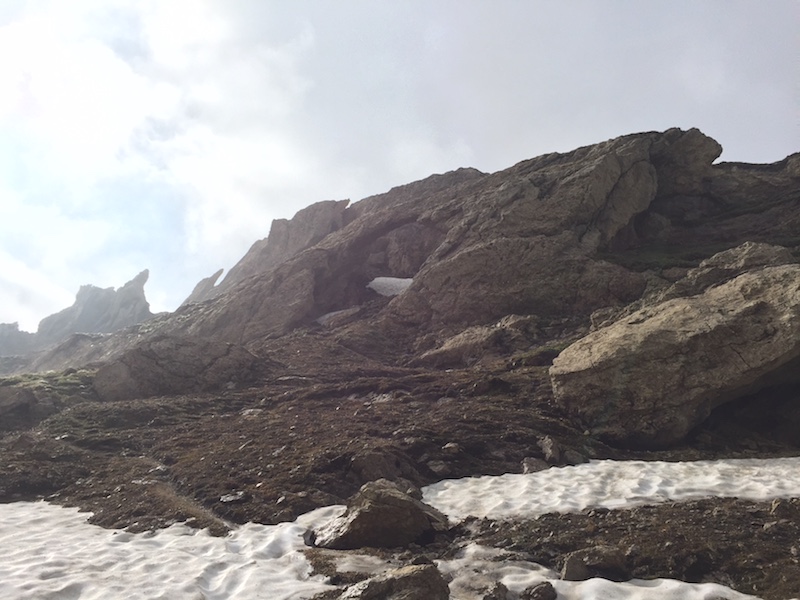 It was a place of peace. Everything was quiet. I could only hear the sound of the river flowing out of the lake. It was not a place of the people; there was no building nor a construction in sight. It really was a place of nature. It was a place belonging to the mountains, its animals and plants.
In the moment I was going to spread the ashes I heard a helicopter. I could not believe it. "Just now?!?" But then I thought "Why not?". The life of my dad had not been idyllic; he did live this fight between "disturbing elements" – mainly coming from interactions with people – and the search for unity and deep peace.
So I just did it. I let those ashes of his physical body free in the air, falling down from the arch. I screamed loud for him: a scream of joy, a scream for the freedom and the peace of his soul. A screamed to tell to the mountains: a soul of the rocks is free.