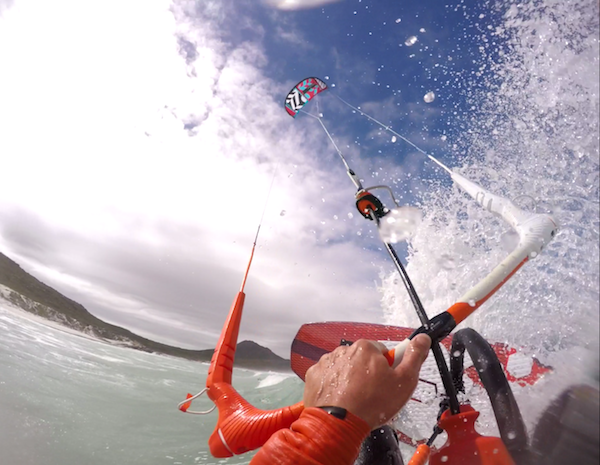 Alive while playing with the elements – an interview with Javier Fernandez Pulido a professional kite lover
I saw Javier Fernandez Palos for the first time at a braai (South African's BBQs…) at a hostel in front of the kite beach of Cape Town. The sun was going to meet the horizon soon and an incredible show of colors was already taking place in the sky. Javier was taking pictures of that beauty. He was quietly walking around, also taking pictures of people chatting together, while they did not notice, trying to grasp the natural beauty of their conversations.
Later while talking with Javier I discovered that this seemingly quite guy is a talkative Spaniard laughing loud and having some interesting stories to tell. He broke some ribs while learning to do some big jumps. He loves the sea. He loves to share the secrets of his favorite kiteboarding spots and tricks on how to ride.
He has been 17th best kitesurfer worldwide (at the VKWC). He travels from one photo shooting in beautiful kitesurfing places of the world to the next as a team rider. Moves from one competition to the next.
But what fascinated me, while talking to Javier was the light in his eyes that shined while talking about kitesurfing. Especially when he talked about the waves. About the challenge of facing 4 meters walls of water with over 30 knots of wind blowing. As just happened to him a few days before we meet in a unique place: in the Cape of Good Hope, the most southern place of Africa. That's the point where two oceans meet. A place where the elements of nature are wild and a kiteboarder is just a little dot, that can be either destroyed or fly, carried by the power of the elements.
Follow the adventures of Javier on Instagram or Facebook. Here you can also have a look at this interview for Kite Spain (in Spanish).
Thank you Javier Fernandez Pulido for sharing the nice pictures.